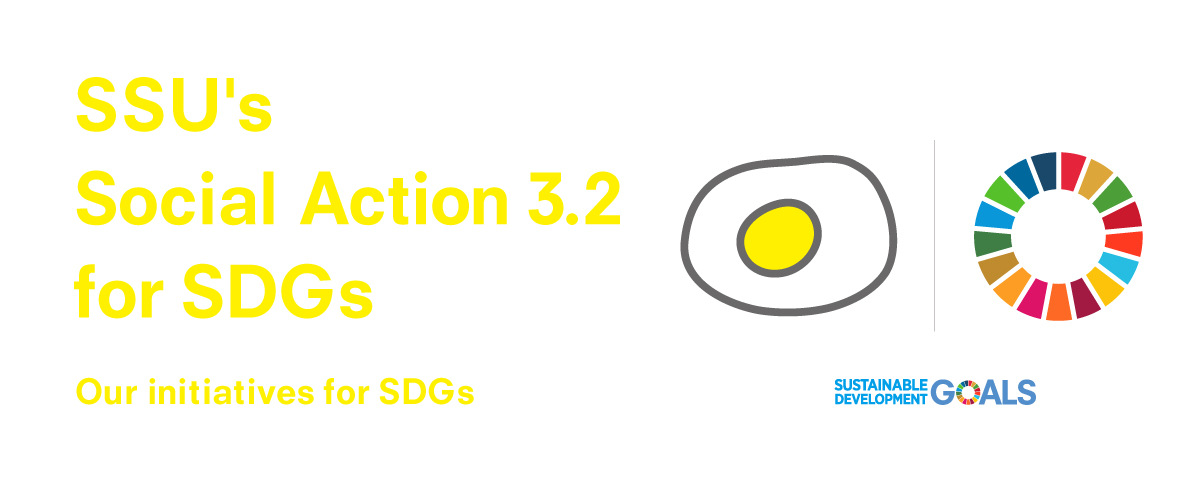 March 2, 2019, SUNNY SIDE UP Inc. (Tokyo, President: Etsuko Tsugihara) announced the launch of "SSU's Social Action 3.2 for SDGs (Social Action 3.2)" project targeted at reaching SDGs set by the United Nations.
"Social Action 3.2" is a project designed to support activity geared at attaining SDGs by using SSU's knowledge and experience in the field of marketing communications based on our corporate slogan "Let's Have Fun".
Since 1985, SSU has been engaged in PR and promotional activity for various projects, introducing social movements that focus on the potential of people, and hope for the future. The "White Band Project" in support of the globally known "Make Poverty History" campaign. "Carbon Offset New Year's Postcards" to help reduce greenhouse gas emissions. "TAKE ACTION FOUNDATION FOOTBALL MATCH", a social action program using football to help stimulate local communities. Japan's largest LGBT related event, "TOKYO RAINBOW PRIDE". The global social action project "RockCorps" which uses the power of music to bring corporations, local communities and people together. These are just a sample of the activities we have taken on even before the UN established SDGs.
"Social Action 3.2" takes advantage of the experience and knowledge from our activities to address the 17 global challenges set forth by SDGs including poverty, education, gender and energy. We will provide PR and communication support for corporations, organizations and projects in their efforts to attain SDGs.
As a company involved in communication, we believe it is our social responsibility to use news and content to evoke sympathy and stimulate action as we endeavor to change the world. "Social Action 3.2" is our way of contributing to the fulfillment of SDGs for a brighter future.
■Message from the President
Poverty, economic inequality, environmental issues… The world we live in faces many challenges. These challenges can all be resolved by our knowledge and action. PR may not be able to directly resolve the issues our world faces. But we are in a unique position to inspire and motivate people, urging them to take action by shedding light on the issues, and evoking empathy and awareness.
The projects we've already taken on such as White Band, TAKE ACTION and RockCorps…
They were a part of our challenge to make social change. Our efforts to create a social movement by appealing to people's emotions. We will continue to create a buzz, in order to create a brighter future full of hope.

Please refer to the following for detailed project information.
SSU's Social Action 3.2 for SDGs: Examples of recent projects
■Promotion "International Women's Day"
Promotional activity to enhance awareness for "International Women's Day" on March 8, designated by the UN.
Support for womaninnovation association and PR for "International Women's Day – HAPPY WOMAN AWARD 2019" which recognizes women making headway in various areas.
March 8 has also been designated "Premium Woman Day" as part of our company's 32 employee benefits program. The work day will end at 15:00, and female members of the company will be given perks in appreciation for all their hard work such as deli service, house cleaning coupons and head spa certificates.
■Participation in "W20 JAPAN 2019"
Women20 (W20) is an official G20 (made up of G7 members, EU, Russia and 11 additional countries and regions) engagement group which jointly formulates concrete recommendations to advance gender equality in G20 negotiations.
Etsuko Tsugihara, our president, has been assigned to a W20 committee. "W20 JAPAN 2019" will be held in Japan for the first time on March 23 and 24, 2019. SSU will be providing PR and operational support for the event.
■PR support for "TOKYO RAINBOW PRIDE"
"TOKYO RAINBOW PRIDE" is the largest LGBT related event in Japan. We have provided PR support for the event as part of our CSR since 2014. We will continue with our efforts in support of "TOKYO RAINBOW PRIDE"
■Paper straws at "bills" restaurants
SSU runs and operates "bills" restaurants, a group of all-day casual dining establishments. All domestic locations (Shichirigahama, Yokohama, Odaiba, Omotesando, Futakotamagawa, Fukuoka, Ginza and Osaka) will switch to paper straws by mid-May in our efforts to address the issue of single use plastic straws and affects on marine environment.