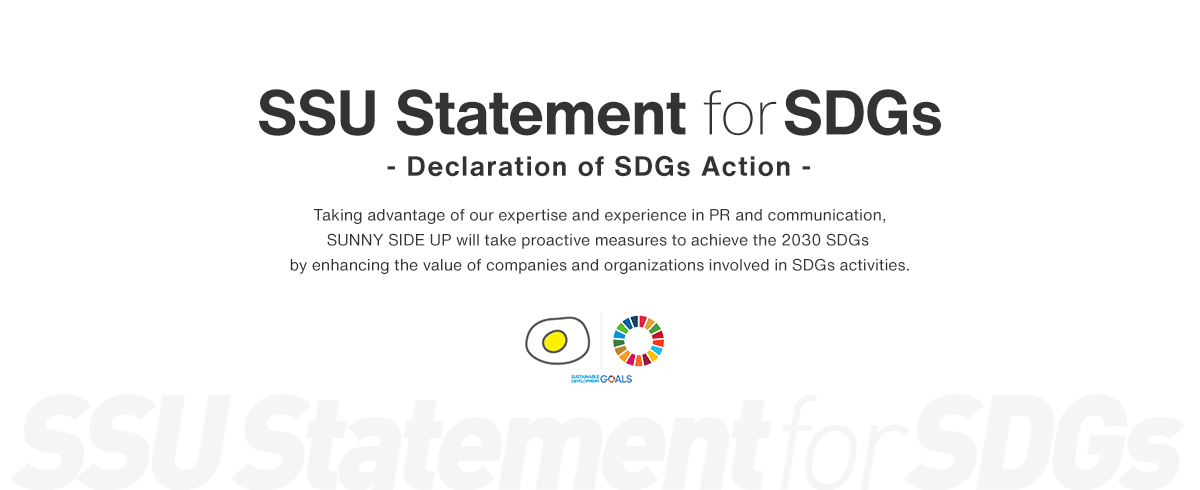 SUNNY SIDE UP, Inc. is pleased to announce our new "SSU Statement for SDGs" in anticipation of 'SDGs Week*1'- a global movement to be held to coincide with the United Nations General Assembly session

According to the SDG Global Index*2, despite Japan ranking 15th among 162 countries, major challenges concerning gender equality and climate action remain. In light of the current situation in Japan, SSU remains committed to applying our vast experience and knowledge in PR and communication to support the world's progress toward achieving the SDGs, by enhancing the value of companies and organizations involved in SDGs activities.

The following activities will be activated as part of our initial efforts related to this declaration.

1) We have established official PR partnership with Woman Innovation Association and the Shibuya City Tourism Association, and will also work in collaboration with the Japan Business Federation, to provide PR support for these organizations which play a key role in SDG-promotional activities. We will be providing communication support for these organizations in their efforts to achieve SDGs, based on our 35 years of experience in the PR industry.
2) We have created an SDG Support Unit of experts to offer a specialized support system for companies and organizations engaged in SDGs efforts. This Unit will provide strategic consultation and support to boost corporate value, offering effective solutions by leveraging our expertise in fields such as PR, promotion, media relations, and content marketing—skills we have cultivated through our experience in a wide range of social action programs.

This declaration is our official vow to proactively engage in these activities, so that we can contribute to the global efforts to achieve the SDGs goals set for 2030.

*1 The final week of September (September 22 through 29, 2019) which coincides with the UN General Assembly session, is dubbed 'SDGs week (Global Goals Week)' to raise awareness and drive action towards the promotion and achievement of the SDGs.
*2 Source: UN Survey by the Sustainable Development Solutions Network (SDSN)